引用本文:
王骞, 吴恺, 王航超, 刘文, 周恒辉. 亲锂的三维二硫化锡@碳纤维布用于稳定的锂金属负极[J]. 物理化学学报, 2021, 37(1): 2007092-0. doi: 10.3866/PKU.WHXB202007092

Citation:
Wang Qian, Wu Kai, Wang Hangchao, Liu Wen, Zhou Henghui. Lithiophilic 3D SnS2@Carbon Fiber Cloth for Stable Li Metal Anode[J]. Acta Physico-Chimica Sinica, 2021, 37(1): 2007092-0. doi: 10.3866/PKU.WHXB202007092

亲锂的三维二硫化锡@碳纤维布用于稳定的锂金属负极
1.

北京大学化学与分子工程学院,北京 100871

2.

北京化工大学理学院和能源学院,北京 100092

3.

北京市动力锂离子电池工程研究中心,北京 102202

基金项目:
摘要: 金属锂由于其高的比容量,低的电极电势和轻质等特点被认为是下一代高能量密度锂金属二次电池负极材料的最佳选择。然而,充放电循环中不均匀的锂沉积会导致严重的体积变化和大量的锂枝晶形成,从而影响了电池的库伦效率甚至会带来严重的安全隐患。为此,本文设计了一种亲锂的三维二硫化锡@碳纤维布复合基底材料,并作为集流体将其应用于金属锂电池上。一者,高比表面积的三维碳纤维骨架可以适应充放电过程中的体积变化并且有效地降低局部电流密度,从而确保锂的均匀沉积。二者,表面修饰的SnS2层在锂沉积过程中可以形成Li-Sn合金界面层,诱导锂的沉积并降低过电势。最终,实验结果表明:使用所制备的复合集流体与金属锂搭配组成的半电池可以在5 mA·cm-2的高电流密度下以 > 98%的库伦效率稳定循环100周以上。此外,在承载10 mAh·cm-2的金属锂后,复合的锂负极无论是在对称电池还是与磷酸铁锂组装成的实际电池中,均可以在高的电流密度下实现稳定的循环。我们相信这一复合的集流体构建策略对于设计安全稳定的锂金属电池或器件具有重要意义。
English
Lithiophilic 3D SnS2@Carbon Fiber Cloth for Stable Li Metal Anode
1.

College of Chemistry and Molecular Engineering, Peking University, Beijing 100871, China

2.

College of Science & College of Energy, Beijing University of Chemical Technology, Beijing 100092, China

3.

Beijing Engineering Research Center of Power Lithium-ion Battery, Beijing 102202, China

Corresponding author: Liu Wen. E-mail:wenliu@mail.buct.edu.cn. Tel.: +86-10-64448751; Zhou Henghui. E-mail:hhzhou@pku.edu.cn.Tel.: +86-10-62757908

Received Date: 31 July 2020
Accepted Date: 11 September 2020
Revised Date: 01 September 2020
Available Online: 15 January 2021
Fund Project:
† These authors contributed equally to this work.
Abstract:
Li metal batteries (LMBs) have attracted worldwide attention in recent years with a focus on the extremely high theoretical energy density of 3580 Wh·kg
-1
(Li-O
2
) and 2600 Wh·kg
-1
(Li-S), which benefit from the highest specific capacity (3860 mAh·g
-1
) and the lowest negative potential (-3.04 V) of Li metal anodes. However, further development and practical applications are hindered by the formation of Li dendrites and a large volume expansion, which not only lowers the coulombic efficiency but also leads to many security risks, such as internal short circuits, fires, and even explosions. In this study, we selected a low-cost and commercial carbon fiber cloth (CC) as a 3D framework for accommodating Li metal and relieving the volume expansion during the Li plating/stripping process. In addition, lithiophilic SnS
2
nano-sheet arrays were grown on the surface of carbon fiber cloth
via
a one-step method. The SnS
2
arrays can be partially converted to Li-Sn alloy and Li
2
S components during the Li plating process. The as-formed Li-Sn alloy can provide reversible sites for further Li deposition and improve the electrochemical kinetics process. As a typical component of the solid electrolyte interface (SEI), Li
2
S can promote Li
+
migration at SEI and ensure a homogeneous distribution of Li
+
-flux near the electrode surface, thereby reducing the overpotential of Li deposition and suppressing the formation and growth of Li dendrites. Meanwhile, the 3D carbon skeleton can also reduce the local current density of the electrode because of its high specific surface area to ensure uniform Li deposition. Benefiting from the design of the combination bulk and the surface, the composite SnS
2
@carbon fiber cloth (SnS
2
@CC) demonstrated excellent prospects for practical applications. Upon pairing with Li foils, the SnS
2
@CC electrode displayed stable cycling performance with improved coulombic efficiency (> 98%) over 100 cycles at 1.0 mA·cm
-2
/5.0 mAh·cm
-2
. After loading 10 mAh·cm
-2
Li metal, the composite Li metal anode could run over 400 h with a low overpotential of 60 mV at a current density of 1.0 mA·cm
-2
, even when the current density was increased to 2.0 mA·cm
-2
; additionally, a low overpotential of 85 mV could also be maintained over 350 h, manifesting one of the most stable composite Li metal anodes to date. Moreover, when the composite Li metal anode was assembled with a LiFePO
4
cathode, the full cells exhibited a high initial specific discharge capacity of 160.6 mAh·g
-1
and high cycling stability. At a rate of 2.0
C
, the cell showed
a
high capacity retention of 80.6% after 500 cycles.We believe that the lithiophilic SnS
2
@CC composite electrode offers a simple and effective strategy to suppress dendritic Li growth and relieve the volume change during the charging/discharging process.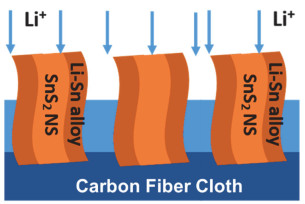 扫一扫看文章
计量
PDF下载量:

3

文章访问数:

176

HTML全文浏览量:

21